Who is Terry Gremaux A.K.A. "The Hashtag Hunter?"  Well…there I was in a bar in Louisville Kentucky the night before a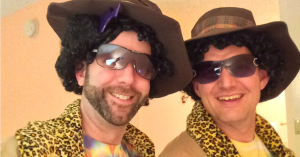 company event.  Standing about 10 feet away with a beer in his hand and a big ol' shit eaten Montana grin on his face was a guy who was soon to go from being a $15/hour gas and welding store manage to homes business leader, sought after trainer, and most importantly an incredible friend.   
His name….Terry Gremaux or when referred to by his online persona, handle, brand name…whatever you want to call it, "The Hashtag Hunter."  The giant smile?  A product of him hangin in person with the leaders he had followed and looked up to for some time online.  The facts?  Terry had already made a decision to be one of those leaders we just didn't know it yet.
The Journey From Terry Gremaux To The Hashtag Hunter
I'll save a good deal of the details for you to hear when you watch my interview with Terry below, but let me start by saying if Terry's story doesn't help you realize that success is possible for you then you've got to do some serious soul searching.
Terry struggled in something like 9 different network marketing companies, the entire time building (I use the term loosely) in a small Montana town with just stop light or two.  Then one day, a narrative all too common in the journey of successful home business owners began to play out, Terry had had enough.  He began to think differently.  In turn he began to act differently, and when you begin to act differently new results are right around the corner.
Why Does Terry Gremaux Call Himself The Hashtag Hunter?
Well, when you burn out your warm market by pitching them 9 different deals every time they stop at the general store to pick up milk, eggs, and fishing lures, you've got to start to get creative in how you connect with people.  For Terry the avenue of choice became social media…hence the "Hashtag Hunter" brand was born.  The result of his determination, constant investment in himself, and relentless skill development has been nothing short of extraordinary.
Terry has gone on to enroll over 80 reps using free social media strategies.  Quit his job.  Have several 10k days as a coach, and marketing trainer, and is now beginning to grace the stages of major events as an industry elite.  This Thursday night at 9PM EST I have the good fortune of having Terry on a webinar a guest trainer where he's going to teach you how he's done it, and more importantly who you exactly how you can do it to.  You can Click Here To Get Registered.  For right now, you can get some incredibly valuable tips and training, by watching the video below where I interview Terry Gremaux The Hashtag Hunter himself.
Video:
 

My Interview With Terry Gremaux The Hashtag Hunter
If you found this video helpful be sure to share it and comment below!
P.S.  If you could use more leads for your business you may want to take a peak at the system I have been using for over 2 years now.  

Check it out here!
P.S.

If Your Upline Doesn't Have a Step by Step Blueprint For Success Then Check This Out (Unless of Course You Already Have Too Many Leads) CLICK HERE FOR

INSTANT ACCESS

 
Comments
comments