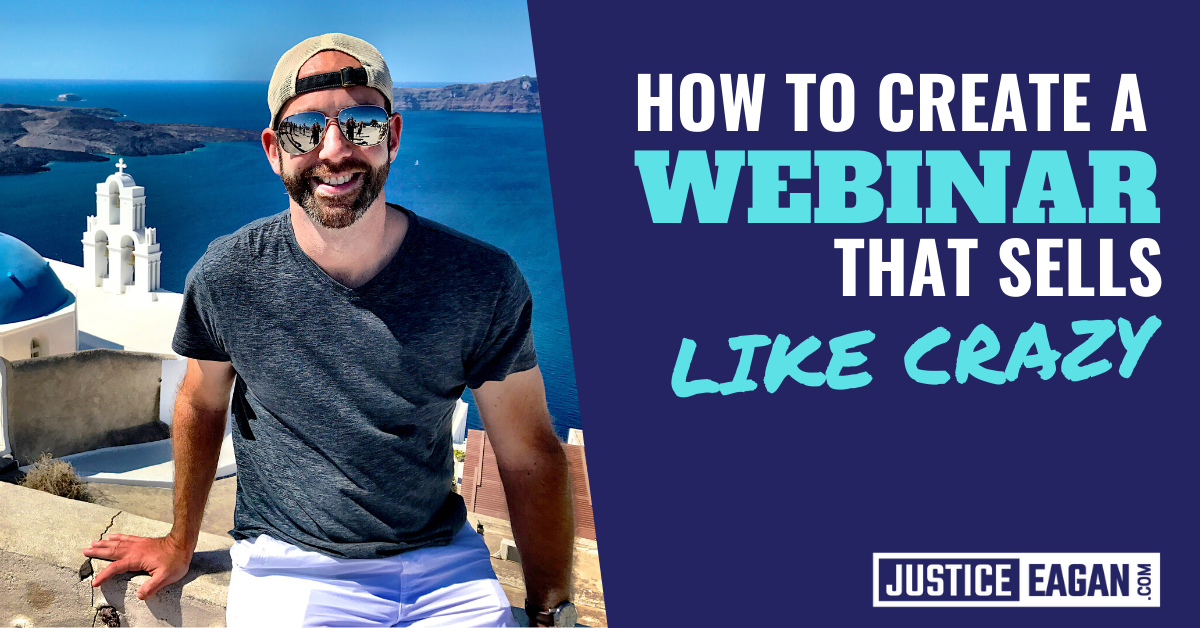 In this Episode I'll teach you how to create a webinar funnel that sells like crazy and share with you 5 Tips To Boost Webinar Conversion Rates!
There's no denying it.  Webinars are one of the most effective ways to sell just about anything online. They've single handily changed my business and the businesses of countless other digital entrepreneurs.
After crafting multiple 6 figure webinars including a single presentation that's done well over $300,000 in sales, I'm going to share the do's and don'ts of holding sales webinars so you can skip the costly trial and error, and hopefully fast track your way to profit!
First things first watch the video below to learn:
Video: 5 Tips To Boost Webinar Conversion Rates


Now that you know how to create a webinar that converts let's cover the necessary components of the Webinar funnel itself.
How To Create A Webinar Funnel That Converts Sales Like Clockwork
Registration & Thank You Page
As mentioned in the video above, one of the biggest drivers of a successful webinar is a great headline or hook. It's not uncommon to include things like benefit driven bullets outlining what an attendee can expect to learn, a short intro or authority building blurb on the presenter, and possibly social proof to build trust and drive registration. However at the end of the day, I often find that less is more. Make a great promise, make sure your your page is Mobile friendly, and you're off to the races.
Once someone registers use the thank you page to give incredibly clear instructions on what they should do next especially in regards to confirmation emails, reminders etc.. Remember attendance is a big focus. The thank you page is also a great place to build some anticipation for the event and deliver any bonus authority building training or information.
Webinar Follow Up
Pre-written emails delivered from your autoresponder are the best way to stay top of mind with your registrants. Do not make the mistake of relying solely on 1 or 2 emails that your webinar software may send out. Use your own follow up emails to highlight the pains & problems that attending your webinar can solve for your registrant, or the major benefits they can expect from attending. Optionally you can include extra content designed to build trust, authority, and anticipation, while handling some common objections ahead of time.
Webinar Execution
The number one question most people ask is how long should my webinar be. I'm going to tell you that there's no right answer, and there are wild varying professional opinions on this. So I'll provide the wildly unsatisfying answer of… as long as it has to be. Simply make sure you accomplish the presentation tips discussed in the video above, and feel free to Follow This 6 Figure Webinar Template.
After Your Webinar
Providing a replay of you webinar is totally optional. Once you learn how to drive registrants you'll certainly get your fair share of replay requests. If you do provide a replay be sure to set an expiration date. The upside is that sending a replay out will produce more sales. The downside is that over time your audience will likely come to expect a replay and feel less compelled to make the time to show up live.
How To Build Your Webinar Funnel
Setting up your webinar funnel does not have to be hard. Softwares like ClickFunnels are extremely user friendly, and come with enough support to help even the most non techie person get up and running.
However the best place to solve most tech challenges is right on Youtube. There are short point and click tutorials that will walk you through anything you need to know when setting up your webinar funnel.
The crucial pieces of a successful webinar funnel are laid out in this map. Below it you'll find all my recommended softwares that can help you build the webinar funnel shown below.

Recommended Tools & Softwares For Holding Your Webinar
The Best Funnel Builder
Clickfunnels – There are tons of funnel building solutions out there, and I've used many. From integrations to, built in tracking, to ease of use Clickfunnels provides just about everything you need under one roof making it the best option for most marketers.
You Can Take A 14 Day Trial Here
The Best Live Webinar Software
GotoWebinar – This is the old standard in the webinar space and still what I use. GotoWebinar has proved to be the most reliable platform over the years. It's expensive, but I've always felt the reliability was worth it.
Zoom – Zoom has become the goto for many marketers and for good reasons. It's reliable and affordable. It's a great option for any marketers at any skill level.
The Best Automated Webinar Software
EverWebinar – It pains me to say this because the reliability of EverWebinar leaves a lot to be desired, and the support is even worse, but overall it's still the most complete option when it comes to hosting automated webinars.
Stealth Seminar – Another good option for automated webinar software is Stealth Seminar. The software isn't as flexible as EverWebinar and doesn't have quite as many features, but the support is amazing.
The Best Autoresponder
Convert Kit – What I love about convert kit is you get all the bells and whistles of a more robust and expensive autoresponder at an entry level price. As your skills and needs grow, you'll be less likely to outgrow convert kit the same way you would it's reasonably priced competitors.
If you have any other questions about how to create a webinar funnel! Drop them in the comments below.
Comments
comments