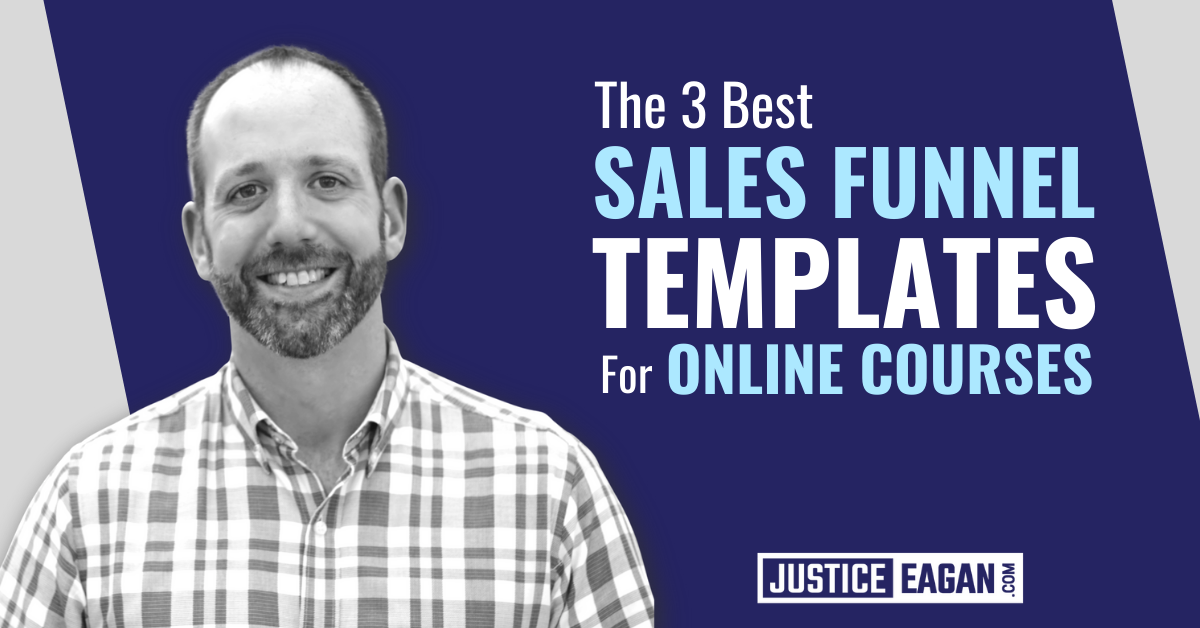 Want to know the best sales funnel templates to sell online courses or coaching programs?
Well you're in the right place, because this blog and training episode will teach you how.
But before I do that it's important I dispel one myth that rattle's around in the brains of business owners and make the journey to online profit a whole lot longer and more difficult.
What's the myth?
Setting up online "Funnels" is complicated!
Can it be complicated? Sure, but only if we complicate it. Marketers often get caught up in the ideas of countless bells and whistles, fancy triggers, upsets downfalls etc. etc..
The reality is, simple is often best, and I'm speaking from experience.
Yours truly has wasted countless hours that I'll never get back overcomplicating funnels that could have stayed simple.
In fact, it's often the case that the most simple funnels produce the best results.
Liken the set up of funnels to the group painting classes that have become popular over the last few years.
Most people walk without experience as professional artists, but after following the step by step instructions of the art instructor they walk out with a painting that shockingly exceeds the quality of one they would have produced on their own.
They're no more of an artist when they leave than when they arrived, but they walk away with the end results which is having produced a high quality painting.
Watch today's training episode to learn the 3 best funnel templates to choose from when selling your course or coaching program online.
Check out this episode's training video.
Video: The 3 Best Sales Funnel Templates To Sell Online Courses

Now you know the 3 best funnel templates to choose from when selling your course or coaching program online. So what's next?
Well it goes without saying that you'll need an offer. If you have an offer already great. If you don't quite have your offer crafter or you'd like to improve your current offer so it converts more sales then definitely register for the "Profit From Knowledge Masterclass through the button above.
Once you've got your offer crafted it's time to build your funnel. To do that you'll need to choose some tools.
What Are The Best Tools To Sell Online Courses?
The answer to this question is hands down Clickfunnels. I've use plenty. Many I still subscribe to because I have existing funnels active on the web.
Clickfunnels – There are tons of funnel building solutions out there, and I've used many. From integrations to, built in tracking, to ease of use Clickfunnels provides just about everything you need under one roof making it the best option for most marketers.
You Can Take A 14 Day Trial Here
The Best Live Webinar Software
GotoWebinar – This is the old standard in the webinar space and still what I use. GotoWebinar has proved to be the most reliable platform over the years. It's expensive, but I've always felt the reliability was worth it.
Zoom – Zoom has become the goto for many marketers and for good reasons. It's reliable and affordable. It's a great option for any marketers at any skill level.
The Best Automated Webinar Software
EverWebinar – It pains me to say this because the reliability of EverWebinar leaves a lot to be desired, and the support is even worse, but overall it's still the most complete option when it comes to hosting automated webinars.
Stealth Seminar – Another good option for automated webinar software is Stealth Seminar. The software isn't as flexible as EverWebinar and doesn't have quite as many features, but the support is amazing.
The Best Autoresponder
Convert Kit – What I love about convert kit is you get all the bells and whistles of a more robust and expensive autoresponder at an entry level price. As your skills and needs grow, you'll be less likely to outgrow convert kit the same way you would it's reasonably priced competitors.
Here Are Some Other Training Episodes That Can Help You Sell Online Courses
Episode 2: How To Create A Webinar That Sells Like Crazy
Episode 6: How To Identify Your Target Market
Episode 7: How To Create An Online Course From Scratch (7 Step Tutorial)
Feel free to reach out if you have any other questions or would like guidance launching your online course or coaching program.  My email is email justice@justiceeagan.com.  Otherwise get out there and start using one of these 3 sales funnel templates to sell online courses!
Comments
comments