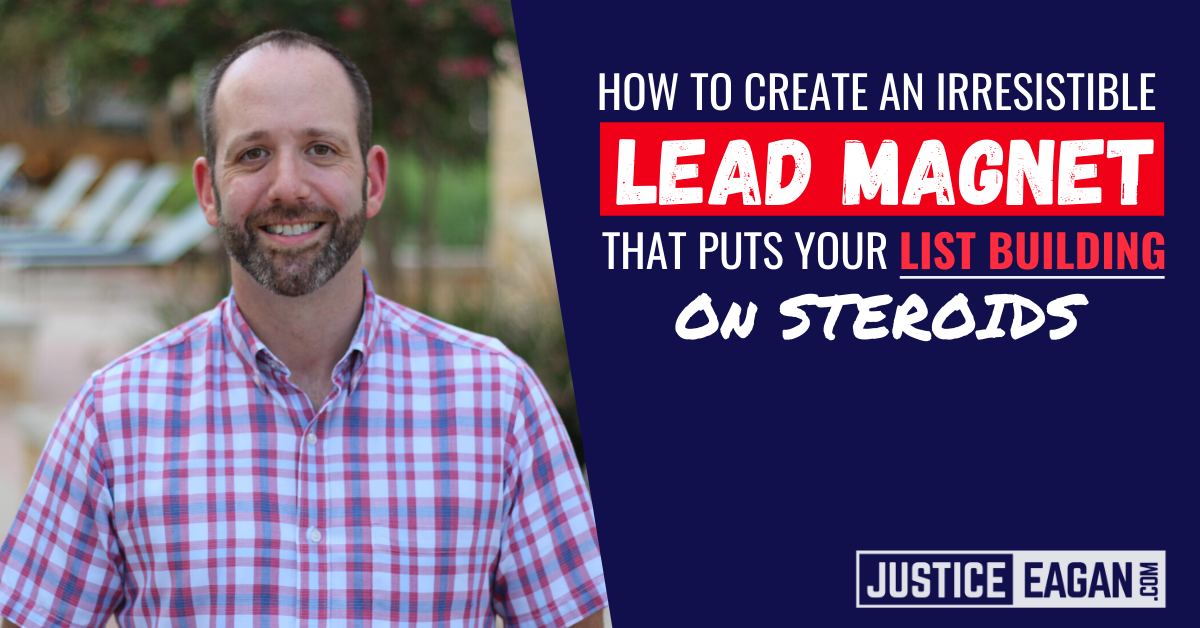 In this training episode you'll learn how to create a lead magnet so irresistible that you'll grow email list faster than ever!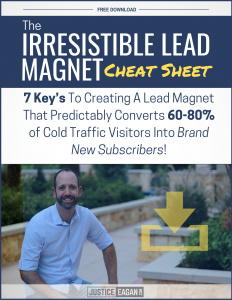 Let's face it, nobody wants to receive more emails just for the heck of it.
Weak opt in calls to action like "join my newsletter" or "subscribe for updates" simply don't get the job done, and haven't for years.
Frankly, everyday Lead Magnets done even cut it anymore. You truly need to create a lead magnet that's irresistible to your perfect prospect.
The good news is in the video below I'll share the secret sauce that often get's my clients and I 70%, 80%, and even 90% opt in conversion rates with cold traffic visitors.
I know those numbers sound almost too good to be true, but you can see actual examples inside this"Irresistible Lead Magnet Cheat Sheet". 
How To Create A Lead Magnet So You Can Build An Email List Fast!


Creating a lead magnet doesn't have to be difficult. In fact it's best you keep things as simple as possible especially when you're creating something new. One of the best pieces of entrepreneurial advice I've ever gotten from a mentor named Ray Higdon was… "never spend too much time on something unproven."
For this reason I tell clients that version 1.0 of their new Lead Magnet does not have to be a masterpiece. The goal is to get it out and learn if the marketplace responds the way we hope before spending a great deal of time on fancy design, extensive follow up or any other bells and whistles.
Here Are 3 Fast & Easy Lead Magnet Ideas That Work For Almost Any Niche
Resource Lists & Swipe Files – What I love so much about these is that literally anyone can create them. Imagine you want go lose weight and someone put together a list of the best free weight loss apps, or a list 21 low carb recipes that take 15 mins or less. You'd be sure to grab them.
Now imagine you're struggling to get engagement on Social Media and someone has put together a swipe file of their 32 Most Shared & Engaged With Social Media Posts. Would you grab it? The answer is likely yes.
Checklists & Cheat Sheets – People love handy tools like these to help them stay on track or make sure they cover all the bases in whatever effort they're making. Plus, in addition to being a handy tool, cheat sheets and checklists can provide valuable information that your perfect prospect is looking for.
Case Studies & Examples – One of the best ways for people to learn or get great new ideas is through examples. By sharing examples of something that is working for you, or detailing a case study of how something has worked for others you're able to leverage Social Proof while at the same time providing a valuable resource.
How To Create Your Lead Magnet Once You've Decided On The Content & Format
Personally I've had little success outsourcing the creation of the content itself in a lead magnet. However the formatting and design can be easily and inexpensively outsourced.
What's so cool about today's digital marketing world is that if you choose to do things yourself the tools needed are user friendly and inexpensive.
When working with clients the first thing they do is determine what the problem they intend to solve is, and what the actual content of the lead magnet will be.
Then they decide on the format they'll deliver the content in. Will your lead magnet take the form of a Document, Audio, Video etc.? This is greatly dictated by the nature of the content. When suitable I recommend a PDF document.
Once these details have been worked out, it's time to create. Usually sitting down and laying everything out in a simple online document is a good start. From there you can decided if you'll be doing the design or if you'll be sending it out.
To create PDF Lead Magnets I recommend the following tools
Canva.com – Great for any do it yourself design needs.
Myecovermaker.com – The best spot I know of online to create your own ecovers.
(The video above includes a short tutorial)
Fivver.com – is a great place to inexpensively outsource the design work.
I've Created My Irresistible Lead Magnet… Now What?
Well, this is certainly a topic to be discuss more deeply in a different training episode, but we can talk about the basics.
1). You'll Need A Lead Magnet Funnel – The bare bones minimum is a Capture Page with an opt in form connected to an Autoresponder Service, a thank you or confirmation page confirming your prospect's "opt-In", & a "delivery email" set up within the autoresponder service that provides the lead magnet you promised.
Most marketers get too caught up in all the other bells and whistles before their lead magnet has proven itself irresistible. Most will say otherwise but I highly recommend starting with bare bones until you're capture page has seen 100-200 visitors and you know they want your lead magnet.
Services I Recommend For this are
ClickFunnels – What I believe is the most complete and easy to use funnel builder on the market.
Convert Kit – What I believe is the most capable autoresponder at a reasonable price.
2). You'll Need Traffic To That Funnel – I'll leave your traffic strategy up to you. What's most important is that you have one. The ability to get the right message in front of the right people online is one of the most valuable skills that exists today. Take the time to learn it, or if you have a more sizable budget find someone trustworthy who you can hire. Note: If you'd like to discuss having us help you drive traffic, feel free to send an email to justice@justiceeagan.com.
So that's everything.  With the help of the information above and the help of My Irresistible Lead Magnet Cheat Sheet you've for everything you need to start raking in high quality online leads and building your email list fast.
If you're connected with others who may get value from this information be sure to give it a share, and if you have any other questions about how to create a lead magnet feel free to drop them in the comments below.
Comments
comments