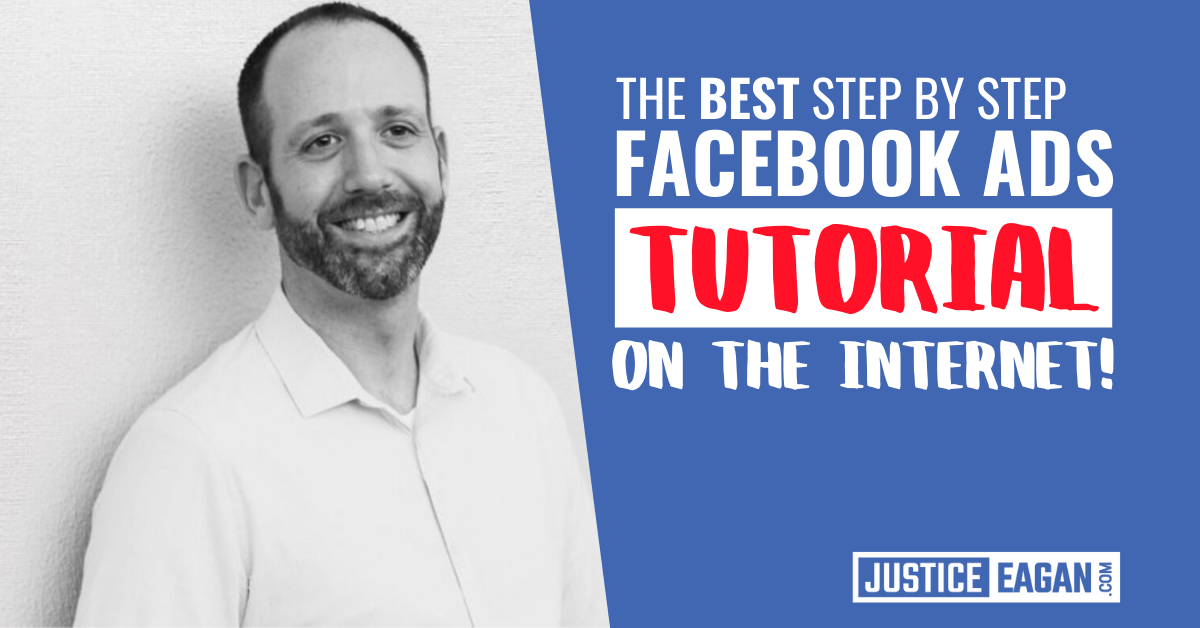 So you're looking for Facebook Ads Tips to help you grow your business without making some of the more common mistakes and ultimately wasting money running ineffective Ads.
Well this training episode, and especially it's video and free "Facebook Ads Creation Cheat Sheet" will help you get up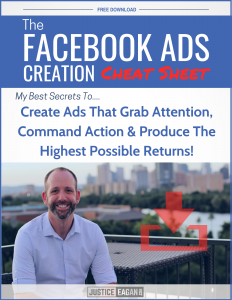 and running with FB Ads, or get better results with your current efforts.
The first thing that needs mentioning is that Facebook is hands down the most Advanced advertising platform on the planet.
The depth at which it understands it's users, and the advanced tracking and algorithm provide unprecedented opportunity for you and your business even if you never master the craft of running ads.
Before you dive into the video tutorial below let's cover some basics.
Here Are 3 Important Facebook Ads Tips Before Creating Any Ad
Know & Follow Facebook Policies: There no shortage of rules and policies when it comes to Facebook Ads, and almost all of them revolve around the ad creative. Facebook's rules are not always clear or enforced consistently, but to assure you put your best foot forward make sure you are aware of their policies and then create ads accordingly. I'll leave a link to Facebook's Policies in the resource section at the end of this post.
Know Your Prospect: This is probably the most important aspect of marketing that rarely gets enough attention from marketers. Sure you have to know your perfect prospect well in order to successfully target them with your ads, but more importantly, effective ad copy is written based on a deep understanding of your prospects pains, problems, fears, needs, dreams, desires and more. If you truly want to run successful Facebook Ads take the time to gain a deep understanding of the ideal prospects you plan to advertise too.
Model What's Working: One of the most famous Tony Robbin's quotes out there is "success leaves clues." I highly recommend you model competitors ads that show signs of having been successful. If you want a shortcut researching ads I use a tool called Adversuite to search all existing Facebook Ads by niche, keywords, creators etc.. and sort the based on metrics related to their effectiveness.  Check Out Adversuite Here
Ok now that we've covered the basics watch the tutorial video below.
How To Create Facebook Ads For Your Business (The Best FB Ads Tutorial Online)

Now that you've gone through the Facebook Ads Tutorial, let's talk about best practices for approaching you advertising so that you are set up for success!
Facebook Ads Tips For Success And How To Avoid The Biggest Advertising Mistakes
Manage Expectations & Emotions: One of the biggest mistakes marketers make when advertising on Facebook is going in with unrealistic expectations, and evaluating effectiveness emotionally instead of statistically.
Successfully & profitably running Facebook ads is not something you're likely to nail your first try. In fact, it's a skill, arguably an art, that will take time and practice. In the end, a majority of ads run by even the best advertisers are not effective or profitable. The key is adjusting accordingly and capitalizing on the Ads that are.
There is no "wasted" money in advertising. Every dollar we spend gathers data, and helps us better understand what is and what isn't working, so if you intend to sweat every dollar spent, and expect immediate return out of the gates, you're setting yourself up for disappointment.
Marketers who fall into this category, are the ones who often tell me that they've tried Facebook Ads, and they just don't work for his or her business. This statement couldn't be more misguided.
Play The Big Picture Game: Piggybacking on the Facebook Ads Tips above, you've got to be playing the long game when you advertise. A mistake many marketers make is to look at Facebook Advertising one dimensionally, ie. I spend money, and that money should produce sales.
That's really not how it works. Much of Advertising is about moving prospects across a spectrum from unfamiliar with you to your brand, to highly familiar, trusting, and ready to do business with you.
The truth is only a small percentage of people are ready to "buy now", but with a solid "Big Picture" advertising plan you can nurture a relationship with those who will eventually become ready to buy, assuring you're their first choice when that time comes.
Budget & Be Consistent: This is a huge part of playing the "Big Picture" game with your Facebook Ads. A common pitfall made by new Facebook Advertisers is to spend money in short bursts in hopes of landing new leads and sales only to turn their advertising off again quickly. Doing this prevents your ads from maturing or in Facebook Ads terms "Fully Optimizing." Without consistency it is nearly impossible to determine what is and isn't working.
Successful Facebook Advertisers set a base line monthly budget to be spent on Ads, and spread that budget across different objectives. Some money is budgeted to expose you or your brand to new people, other money is spent to incubate a relationship with those who have become familiar and capture more leads, and a portion of the budget is dedicated to generating sales.
Approaching your Facebook Ads with a baseline budget will allow your ads to mature, and will give you the ability to properly evaluate and improve over time. Sure you can spend more in a given month for a variety of reasons, but get comfortable with the idea of setting a monthly spend minimum.
When starting out don't view your Ad Spend as "money spent." It's best to take the perspective that it's "money invested" in both your education and business.
Learn (And Focus On) Retargeting: This plays a big role in the relationship building or "incubation" process, is the key to converting the most sales in the long run. Retargeting is the act of running ads to people based on their past and often recent behavior with your websites, Facebook content, and previous Ads.
If you're not familiar with the term "Retargeting" think about the time you visited a website and checked out a certain product or offer after which you were later served Ads for that product or offer again. The time that some vacation offer or amazon product you checked out seemed to follow you around the internet, you were being "Retargeted."
The depth at which Facebook's Ad Platform allows you to customize a prospects experience through "Retargeting" is astounding, and it's way simpler than most people think. It starts with the placement of a unique "Facebook Pixel" code on your website (which Facebook Provides). The topic of retargeting deserves it's own post training episode entirely, but I will leave some relevant links in the resource section.
Test & Refine: Advertising is 100% a statistical game. Your goal is to gather info or data, and then make adjustments accordingly. If you are not prepared to do so, then you are not prepared to advertise on Facebook.
Trust In The Almighty Zuckerburg: When it comes to your Facebook Ads Ol' Zuckerberg has two main objectives. The first and most important is to protect the Facebook user experience. Nobody like being annoyed by ads that aren't relevant to them, or misled by ads that don't properly represent what they're about.
The second main objective is for your Facebook Ads to be successful in producing the desired result. For this reason Facebook Ads are getting easier to run over time, not harder.
The Facebook Algorithm has become so smart that more and more we are telling Facebook what we'd like our Ad to achieve and handing over the reigns so to speak. Once you understand exactly how Facebook Ads work which is details in the video above, you can truly step back and let Facebook do it's thing. Facebook is not just out to reach into your wallet. It is in their best interest for Advertisers like you to succeed.
Here Are The Best Resources To Help You Get The Most Out Of These Facebook Ads Tips
As mentioned above there are a series of resources that can help you gain a better understanding Facebook Ads so that you can use them successfully in your business.
First you will want to familiarize yourself with the Facebook Advertising Policies. You Can Go That Here
The next thing I recommend is researching your competitors Ads to see what is working best. I use a tool called Adversuite. It's truly like having an unfair advantage by spying on what's already working for Advertisers who have professional help and deep pockets for testing. You Can Get Adversuite Here
As discussed "Retargeting" and Facebook's advanced tracking are major tools used by successful Advertisers. It is a bit more Advanced but Facebook provides in depth documentation to walk you through it. Here are a few relevant links.
How To Set Up Your Facebook Tracking Pixel
How To Set Up Custom Conversion For Tracking
How To Create A Facebook Retargeting Campaign
That's all of the Facebook Ads Tips For This Training Episode
If you're connected with others who may get value from this information be sure to give it a share, and as always I love getting feedback. Be sure to comment below and let mw know on a sale of 1-10 how helpful you found these Facebook Ads Tips.
Comments
comments