Online webinars are certainly attended by a majority of home business owners, but are only held by a few.  Most think they're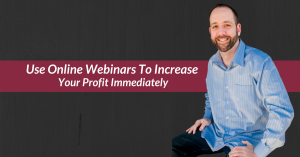 not ready to host a webinar or simply don't know enough, but I'm here to tell you that anyone reading this blog can do a webinar right now.  The best part is, doing live webinars can increase your profits immediately.
Online Webinars Are The Best Sales Medium
Ask any leader, any marketer, anyone getting results….if you want to sell online your highest converting medium will be webinars. There's so many factors that play into this, but here are a few.
1).  People must make a specific time commitment. They're 100 times more committed than when they opt in for a video.
2).  The live setting is irreplaceable.  There's nothing like live.  It makes everything more real, more believable.  You have an opportunity to create engagement and answer questions.  All this will lead to more sales.
3).  You have more time.  Not many people will sit through an hour long video, but people expect online webinars to be an hour or more.  This gives you time to provide more value, but also gives you time to take people on a journey that sells.
3).  Real urgency and scarcity.  Nothing moves people like fear of loss, and the live aspect allows you to create real, believable urgency.  This can't be replicated in a sales video or on a sales letter, and it is an extremely big part of conversions.
Are You Doing Online Webinars
You do want to sell more right?  I know what you're thinking, but I don't know what to do.  I've got you covered.  If you want your business to grow fast, you have to grow fast.  There is nothing stopping you from diving in, and I can guarantee that you know something that someone out there would like to lear.  In today's video you'll learn the 5 steps to successfully running a webinar. Get these down, and you can literally go out there and sell or recruit with ease by leveraging online webinars.
Video: 5 Steps To Successfully Profiting With Online Webinars
If you found this video helpful be sure to share it and comment below!
P.S.  I FIRED MY BOSS and Caught It All On Tape…Watch Me Do It & Discover The Online System That Made It All Possible  Click Here To See The Video!
Comments
comments