Ok so today I want to address my least favorite word in the home business industry.  The double F word, financial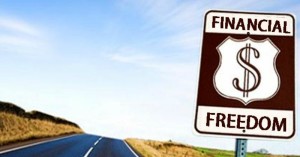 freedom.  It's carelessly thrown around our industry as the prized Golden Goose reserved for those who are willing to develop skills and put in a series of years working a better plan.
Each and every time I ask a prospect, potential customer, or coaching client why they have, or are about to start a home business, I receive the vague and unenthused response…. "Because I want financial freedom."  Seems relatively harmless right?  It's not.  9 times out of 10 another question or two reveals the emptiness of this answer, and in today's video I dive deeper into the danger of this seemingly harmless phrase.
What The Heck Is Financial Freedom?
As Tim Ferris, author of "The 4 Hour Work Week", would say you don't really want a million dollars you want the lifestyle that you believe a million dollars can afford you.  Think about it.  Financial freedom means something different to everyone and the biggest problem is that those who can't help but knee jerk the double F-word when asked why they started a home business don't know what it means to them.
Unfortunately for most "Financial Freedom" doesn't even represent the joys that will be experienced with success, but rather the pains they wish would magically disappear from their current circumstances.  Bottom line, when people get started in our industry and simply hang their hat on the idea of being free, they are rarely saying anything more than…."I don't want to have to worry about my bills anymore."  Watch today's video and give this some serious thought to what it is you mean when you say you're seeking financial freedom.
Video:
 

Why The Goal Of Financial Freedom Is Holding You Back
If you found this video helpful be sure to share it and comment below!
P.S.  If you could use more leads for your business you may want to take a peak at the system I have been using for over 2 years now.  

Check it out here!
Comments
comments