Ever feel stuck?  It's ok….we all go through it.  Maybe you lack clarity or motivation.  Maybe it just feels like life is always getting in the way, or that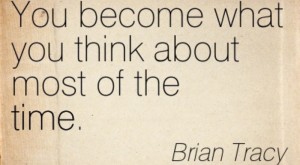 things just won't go your way.  As a business owner you're going to encounter these things.  Especially if you're pushing yourself to accomplish bigger and better things.  One of the biggest challenges my students face is the feeling of being stuck, and the first question i always ask is….do you do daily affirmations?  Some of you just got a smirk on your face.  I know when I got introduced to the concept I thought it was silly, but once I made this a part of my routine it changed everything.
Why Daily Affirmations Can Help You Get Unstuck
First and foremost I must say I am a believer in the law of attraction.   Brian Tracy puts it well by simply saying "You become what you think about most of the time."  If you believe this to be true, then you believe in the power and effectiveness of daily affirmations.  Here are a few reasons why I like them so much and why I encourage all my students to do them.
They force you to clearly determine what it is you want and who you want to become.
If done first thing in the day they help you set strong intentions for the day and remind you why you should stay focused and push through challenges
Affirmations help you focus on what you want rather than current circumstances
Positive habit forming and conditioning can only help.
In today's video I share 3 tips that will not only help you do daily affirmations, but help you do them a more effective way.  Give it a watch and if you feel the tips can help you make sure to implement them in your daily affirmations routine.
Video: How To Get Unstuck With Daily Affirmations
If you found this video helpful be sure to share it and comment below!
P.S.  If you could use more leads for your business you may want to take a peak at the system I have been using for over 2 years now.  

Check it out here!
Comments
comments