So everybody who has seen a network marketing presentation knows what I'm talking about when I mention MLM duplication.  You see that little diagram and someone says with a smile, you just find 2 people and they find 2 and so on and so forth.  This magical MLM duplication will have over 8000 people in your downline in about just one year and the money will be flowing in.  Well today it's time to set the record straight.  I am going to expose the myth of MLM duplication once and for all.  Tell you what's true and tell you whats not true, so that you can start focusing on your MLM success rather than wondering why your MLM duplication hasn't panned out.
For MLM duplication everyone must work like you
This is the main catch guys.  As in all things in life, most people won't be successful.  Many people work for years without ma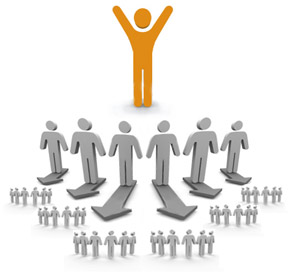 jor promotion, many never reach the level of education they set out to reach, many save but never become wealthy.  These are just the facts of life.  In order to achieve MLM duplication as it is explained everyone must work like you, and that is just not a reality so I hate to say it, but you can ditch the pipe dreams of 2 people wildly growing your organization.  That said do not give up on MLM duplication all together.
 What is the Reality of MLM Duplication
The reality of MLM duplication is that success is not duplicable, success depends on you.  Much like any other organization, out of handfuls of people one or two leaders will arise.  Have a detailed success plan ready for these leaders and you will be on your way to MLM success.  What you need to take from this is that 2 is not enough 4 is not enough.  You need a continuous stream of prospects and new team members so that you can get leaders in your organization. 

 If you are able to achieve this you will already have a success map and it will inspire your leaders.  In other words lead by example and don't ever stop.  MLM duplication is achievable….it just looks nothing like what you are shown when you are introduced to the industry.
Hand Holding Your Team Members Will Destroy Your MLM Duplication
I know this sounds terrible, but there are only so many hours in the day.  If you are going to go all out and get the exposure necessary for MLM duplication then you don't have time to spend hours on the phone coddling an unmotivated person.  Does that sound terrible? :0 OK, let me take it back a notch.  Help is great.  Find a way to streamline it, like daily motivational emails, weekly webinars, training videos for your team etc.  Even one on one help is necessary and great.  Just beware, you cannot spend time teaching someone something they could have learned faster by typing keywords into Google.
MLM Duplication Starts and Ends With You
So I hope you've gotten the message.  Ditch that picture in your head of your team wildly duplicating because of those few reps you brought in.  Be supportive, be a leader, a teacher, be a great sponsor….but do not rely on leveraging your team members and their ability to create MLM duplication for your success.  Be relentless, lead by example, show people it is possible and those that want to succeed in MLM will succeed in MLM.  I guess simply stated MLM duplication is not about your team…it is about you.
If You Found This Post Helpful Please Comment, Retweet It, or Share It
To Your Success,
Justice Eagan
P.S.

If Your Upline Doesn't Have a Step by Step Blueprint For Success Then Check This Out (Unless of Course You Already Have Too Many Leads) CLICK HERE FOR

INSTANT ACCESS

 
Comments
comments