Today, I had the good fortune of sitting down with my good friend and insanely talented marketer, trainer, speaker and networker Diane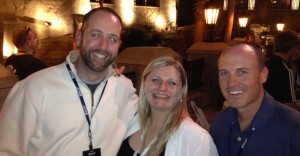 Hochman.   I first met Diane back in 2012.  I was an industry newbie and she already had a good 10 years of industry success under here belt.  I knew then she was someone special to follow and learn from, but I didn't quite understand how special she was.
Since then I've watched her do amazing things time and time again.  I've seen her sponsor 100 people in what feels like the snap of a finger.  I've watched here win affiliate contests against people with massive email lists and huge marketing budgets.  What never ceases to amaze me is how easy she makes it all look.
Today we talk about exactly what makes her approach to business so special, and more importantly so effective.  We talk NY/NJ hustle, lasting legacy, hash browns, and even make mention of a place she calls "happy land."  Sound like nonsense? Guess what….it's some of the purest business building genius you'll find in our industry.
Give a watch below and you'll know understand exactly what I'm talking about.  Oh and if you like what you hear…Diane's doing a webinar this Wednesday night that you can register for right here ==> Diane's Webinar  Enjoy the video!


If you found this video helpful be sure to share it and comment below!
P.S.  If you could use more leads for your business you may want to take a peak at the system I have been using for over 2 years now.  

Check it out here!
Comments
comments