MLM prospecting on social media can be highly effective when it comes to growing your business.  It is also arguably the most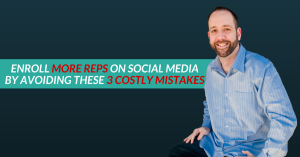 duplicatable internet based strategy available.  That said most network marketers go about it all wrong, and in turn burn out what was potentially a great potential audience for their product service or opportunity.  Let's face it, the majority of people in the developed world have an account on a site like Facebook, Twitter, Linkedin, or others.  This presents amazing opportunity to reach a global audience of potential prospects.  Today's video will help you avoid the mistakes made by so many who are trying to leverage social media to grow their business.
Why Do So Many Make These MLM Prospecting Mistakes
While many network marketing companies are at least coming around to the idea of teaching their reps to leverage the internet to reach more potential MLM prospects, they still have a long way to go.  Most reps, and uplines are left to their own devices when marketing their business on social media.  News feeds everywhere are littered with before and after pictures, blatant pitches, and all around bad marketing.  Unfortunately when people don't know any better they continue to resort to the things they do know, regardless of how ineffective their efforts may be.  I can't tell you how many people I see continue to participate in ineffective online MLM prospecting practices even though no one is responding.  If you'd like to see better results its likely you are making some fundamental mistakes when it comes to your approach.  Todays video should help.
The Key To MLM Prospecting On Social Media
It's certainly impossible to teach you everything you need to know in a single blog post, but when you watch the video below I'll tell you where you can go deeper on the subject.  Most importantly, start by resisting the urge to send people information until you've positioned your product, service, or MLM opportunity as a solution to a problem of theirs.  Plus make sure they are open to reviewing information in a structured fashion.  By structured i mean that you have a commitment form them to review it within a certain timeline, and you have a follow up appointment to collect a decision or set up another exposure. Just adding structure to your approach and resisting the urge to simple send links or info haphazardly, can drastically increase your results.  Most importantly, make sure you're not making the big mistakes that so many network marketers make.  You can do so by watching the video below where I share the 3 biggest MLM prospecting mistakes I see made on social media.
Video:
 

MLM Prospecting Mistakes Most Networkers Make On Social Media
If you found this video helpful be sure to share it and comment below!
P.S.  If you could use more leads for your business you may want to take a peak at the system I have been using for over 2 years now.  

Check it out here!
Comments
comments