This past weekend I was fortunate enough to learn some MLM secrets from top notch team builders.  I know that to some the idea of team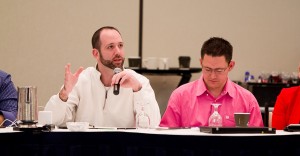 building may not jump out as the sexiest topic.  When I used to think "team building" I used to envision myself driving halfway across the state to present at half empty home parties and hotel meetings, but that's not what I think anymore.  Let's be clear, if you want to build a wildly duplicating MLM you shouldn't abandon team meetings, but I've come to realize that duplication is more about eliciting a response from teammates then it is about how and where you do it.  In the video below you'll learn exactly what's creating wild duplication for the rock stars I had the privilege of hanging with in Florida.
Can These MLM Secrets Work Online?
Traditional MLMer's will argue night and day that you can't create duplication online, but what I'm going to share in today's video isn't about online or offline.  It's about people, and the truth is you're connected to your teammates, and communicate with your teammates online as much or more than you do off.  The reason companies like Amway and Herbalife have become industry giants that stand the test of time isn't simply because of great products, leadership, or comp plan….it's because of culture.  They have tapped into the heart of their distributorship, and created unbelievable company culture.  As a team leader looking to take things to the next level consider the fact that not all people are motivated by the same things, and to create wild duplication and generate the residual income you started this business for, you're going to need quite a few motivated people.  Watch today's video where I share a few MLM secrets to firing up your team and getting the leveraged results you're looking for.
Video:
 

MLM Secrets That Will Lead To More Duplication
If you found this video helpful be sure to share it and comment below!
P.S.  If you could use more leads for your business you may want to take a peak at the system I have been using for over 2 years now.  

Check it out here!
Comments
comments