It's time to talk smart goal setting tips.  In a matter of days the gyms will fill up and the collective energy of those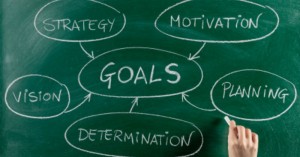 aspiring to improve will spike.  As will all all things that spike so drastically that energy will soon subside.  While I'm not one for the hail Mary attempts at transformation via New Year resolutions, it's important you see the upcoming year as an opportunity to assess and plan.  As a business owner there's no better time  to do that then as you approach the new fiscal year.  Today I want to give you some smart goal setting tips to help you do just that.
Will These Smart Goal Setting Tips Really Work?
Goal setting can work as much as you do.  There's a big difference between what people want and what they're willing to work for.  I will say that it's darn near impossible to achieve something substantial without knowing exactly what you're out to achieve.   Goals help you map out a clear vision of what you want to achieve and in turn give you an opportunity to determine what you must do to achieve it.  Bottom line you are 100 time better off setting goals than you are without them.  In today's video you'll get some tips on how to put your best foot forward.  If you're ready to make this your best year watch it now and learn some really helpful and smart goal setting tips.
Video: Smart Goal Setting Tips For The Upcoming Year
If you found this video helpful be sure to share it and comment below!
P.S.  If you could use more leads for your business you may want to take a peak at the system I have been using for over 2 years now.  

Check it out here!
Comments
comments