What is stopping your positive life change?
It's always easy to think about, or want to make positive life change, but often a few things keep holding us back.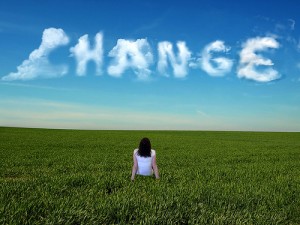 Every day we dream of things both big and small that will bring positive change to our life but we don't act on these thoughts.   Maybe we would like to eat healthier, exercise more, start a business, go back to school, reconnect with old friends….the list goes on and on.  When these ideas arise we choose not to act on them, or we say no.   Now the reason we don't act is often positioned as "in our best interest at the time."  You see many of these positive life changes seem to require time, money and resources that we may not possess.  Hence we let our rational mind justify not moving forward at the time, and in turn, we put yet another positive life change on the back burner.  I'd like for you to take a minute and think about something.  Are we going to have more time, money and resources one year from now? The answer is probably no.  We may even have less of all three.  So what happens?  We keep saying no to positive life change.  What if time money and resources weren't an issue, would we make positive life change then?  I want to take a minute and open your mind to the idea that maybe these things are not the issue.  Maybe the answer to positive change in your life is right in front of you.  All you have to do is change the way you think….make one little mental shift and those ever present restrictions magically disappear.  The shift is simple, just consider these two things.
1.  Lack of time, money, and resources is really not the problem – None of us  manage these three things as well as we can, so at the very least there is some wiggle room to create more of each.  More importantly it is unrealistic to think that any of us will have more of these three things without positive life change.  So leaning on lack of time, money and resources, as an excuse not to take action, however rational it may seem at the moment, will only leave us in the same if not worse position in the near and distant future.   Also note, a countless number of people in more difficult situations than you have achieved both small and large positive life change, so pacifying your mind by repeatedly noting the things you lack may come naturally, but is no excuse for putting off necessary change.
2.  You are really not saying NO to the action that will create positive life change….you are saying NO to you – When the decision is made  not to take action and create positive life change, that no, is really an I can't or I won't.  It comes from a natural fear of failure.  Remember not taking action….is failure, it's never the other way around.
Simply stated, it is not your circumstances that are holding you back.  If you are seeking positive life change big or small, choose something you are passionate about and just say YES!  From that moment on things will begin falling into place.   
  Watch this short video and I will show you how positive life change big and small is wildly achievable. 
Video:  One simple key to positive life change
 To Your Success,
Justice Eagan
Help others make positive life change…If you found this post helpful comment on it, share it or retweet it
P.S.  One of the major positive life changes I made was starting a home base business.  If you want to see how this kind of business can be placed on autopilot through facebook CLICK THIS LINK.
Comments
comments