Sure I could give you online video marketing tips, but why not hear from someone who is literally an Emmy Award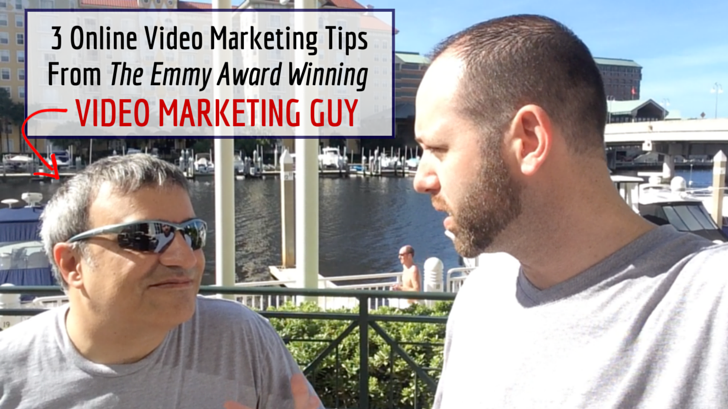 Winning Video Guy right?  Well, this past weekend I had the good fortune of spending some time with my good buddy David Demarco who has not only been around the home business industry for years, but is also a 3 time Emmy winner.  Video marketing has practically become a necessary part of building a business online, so why not take some tips from someone as knowledgeable as David.
Why Online Video Marketing Is So Important
Statistics show that people continue to lean towards consuming video when they are seeking a solution online.  Most social media platforms are becoming more and more video friendly for this reason.  In fact, its crystal clear that Facebook is clearly favoring video when it comes to "reach."
Thats said, biggest reason it's so important is because video marketing gives you an opportunity to make a real connection with the viewer and to make it fast.  It's that kind of connection that leads people online to begin liking you, trusting you, and ultimately buying from or joining you.  Which is why I'm excited to share these online video marketing tips!
Are You Ready For Video Marketing?
The short answer is YES!  Many people I talk to are tentative to jump on video.  Hang ups include things like…
I'm not sure what to say.
Who would want to listen to what I have to say.
I don't know how to do it.
I'm not comfortable on camera.
The list goes on and on.
The technology to create marketing videos has never been more approachable than it is today.  We can implement a great video marketing strategy with nothing more than a mobile phone!
Information is at our finger tips which allows us to learn at an incredible pace.  This means we can easily share something we've learned that can help our target audience.
Most important…people love "real."  There's no need for flash of fancy editing.  There's no need to be a perfect speaker when recording your videos.  If you mess up, so be it, and just keep going.  There are people out there who are waiting to hear your voice, however imperfect, and video is the way to get it to them.
If you're serious about building your business online, it's important you step up and start using video marketing.  If you are already using video my buddy David can help you fine tune your marketing efforts. Either way, watch the video below and check out David's online video marketing tips.
If you found this video helpful be sure to share it and comment below!
P.S.  I FIRED MY BOSS and Caught It All On Tape…Watch Me Do It & Discover The Online System That Made It All Possible  Click Here To See The Video!
Comments
comments