Online MLM lead generation doesn't have to be hard.  If you were to poll the majority of home business owners out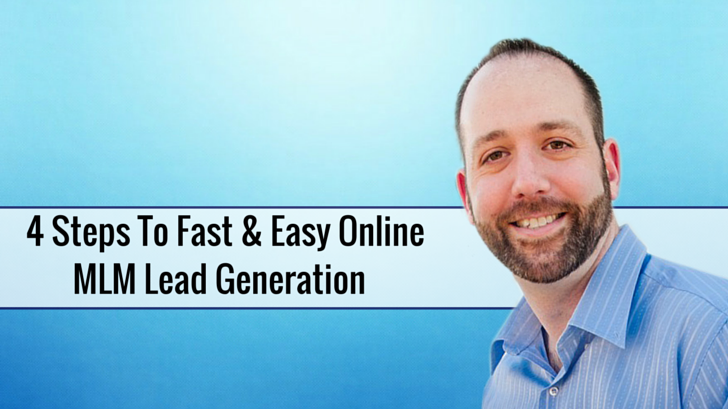 there trying to generate leads online, you'd certainly hear otherwise.  Words like confusion and overwhelm would be a common theme.  Many would feel they are just missing the right traffic strategy or system. 
Here's the reality…we, as people, have a tendency to make things a lot harder than they need to be.  Even worse, most people seek answers that aren't really the answers.  In other words, what they believe to be the difference makers, seldom are.
Today, I'm going to share a breakdown of what's really important, and lay out 4 steps to easily generating MLM leads online for your home business.
My Latest Journey With MLM Lead Generation
This is a topic that gets me really excited.  I simply love the idea of building a list of people who are actually interested in what you have to say. Fortunately I had an online MLM lead generation break through several years ago and have not looked back.  I've granted nearly 30,000 leads online and have no intention of slowing down.
Recently I've began coaching and training on the topic, helping those who have considered themselves stuck online adopt and implement some proven marketing concepts, and start building an email list of targeted prospects.  My goal has been to boil lead generation down to a science, and get every coachable individual who chooses to follow my lead…real, measurable, results!!
The outcome has even surprised me.  Many of my students are going from zero online results, to generating 5, 10, even 20 leads per day practically overnight.  If discovering a breakdown of what they're doing to achieve these results interests you then, assuming you read this in time, you should attend a free live training I'm holding this Monday night at 9PM EST where you'll learn the exact step by step process they've used to get amazing results fast.  You'll even hear directly from some of the students.  Click Here To Reserve Your Spot
My journey and students aside, there are some fundamental principles that almost all marketers miss.  These principles can help you generate more leads online than you ever have before.
The Biggest Misconception About MLM Lead Generation
The biggest misconception most home business owners have about generating more leads is that, lead generation is all about traffic strategies.  Yes traffic is important, but I can introduce you to plenty of people who can drive traffic, but can't seem to turn that traffic into profit producing results. 
This is where the 4 steps come in that I discuss in the video below.  Get these right and doors will open and open fast.  Miss the mark, and you'll feel frustrated with the fruits of your labor.  Watch, or listen for that matter, to the video below and learn 4 steps to fast and easy online MLM lead generation.
If you found this video helpful be sure to share it and comment below!
P.S.  I FIRED MY BOSS and Caught It All On Tape…Watch Me Do It & Discover The Online System That Made It All Possible  Click Here To See The Video!
Comments
comments