Today I want to share some Facebook marketing tips that can help you get home business leads.  Turn the clock back a bit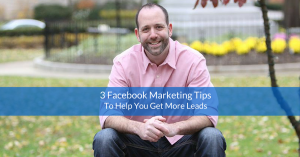 and Facebook was an up and coming social platform used mostly by a younger demographic.  Today however almost everyone we know has a Facebook account which makes it an unbelievable place to communicate, reach your target audience, and in the end, do business.  Most network marketers understand this to some extent, but often use Facebook all wrong.  In today's video I share some basic tips that can help you get your Facebook marketing efforts started off on the right foot.
Are These Facebook Marketing Tips For Profiles or Business Pages
A question i get asked all the time is; "Should I use a personal profile or business/fan page to grow my business on Facebook?"  While opinions vary, and an argument could be made for each, I'm a believer that anyone who is serious about doing business on Facebook should do so through a business/fanpage.
If you don't have one set up its easy to get started.  Simple go to YouTube and search, "How to set up a Facebook Fanpage."  Follow the instructions and you'll be all set to go.  Why use a Facebook Fanpage over a personal profile?  At the end of the day Facebook wants business being done on Fanpages.  Also, it's through a Fanpage that you have the option to advertise, which I talk about in the video below.   Plus, there is a limit to how many friends you can have (5000), while on a Fanpage you can have an unlimited amount of fans.
I could go on and on about the reasons why you should have a Fanpage for business, but simply the unlimited audience and the ability to run ads should be a good enough reason to get one set up.  If you want more fans, and ultimately more leads, more sales and more sign ups, watch the video below where I discuss 3 important Facebook marketing tips.
Video:
 

3 Simple Facebook Marketing Tips To Get More Home Business Leads
If you found this video helpful be sure to share it and comment below!
P.S.  If you could use more leads for your business you may want to take a peak at the system I have been using for over 2 years now.  

Check it out here!
Comments
comments