If you want to know how to get more YouTube views so that you can building that digital sales force working for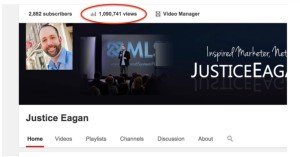 you around the clock you're in the right place.  To date I've driven over 1 Million free, organic, highly targeted views on YouTube.  The result….over 20k network marketing leads from YouTube alone.  To be clear the internet changes fast, and a lot has changed since I got started with video marketing, but many fundamentals still hold true, and today I'm going to share some tips on how to legitimately increase views, so that you can ultimately get more leads and make more sales with your YouTube Videos.
Why Learn How To Get More Youtube Views?
Lot's of reasons.  First Youtube is officially the second largest search engine on the entire web, topped only by it's world dominating dad…."Google."  If you don't know Google owns Youtube and continues to push for user experiences that intertwine search, video, social media and any other tool or platform Google offers.  Bottom line, YouTube's not going anywhere.  If anything you'll see more of it as you use other platforms and tools from Google.  Second, video creates and amazing connection with your audience.  It converts leads, and sales better than text and can grab someones attention and make an immediate connection.  The list goes on and on, but there's no doubt you should watch todays video and at least get the basics down in rout to more traffic and views on Youtube.
How To Get More Youtube Views….LEGITIMATELY!
You may be wondering what I mean by legitimately.  There are always options on the internet to cut corners.  When it comes to Youtube views that's no different.  With just a bit of research you will find plenty of opportunities to buy YouTube views and subscribers….some real, some provided by bots.  Either way, stay far, far away.  There can always be short term gain in gaming the system on the web, but it will come back to haunt you more times than not.  Focus on building a loyal audience and providing them with valuable videos.  Watch the video below to learn how to get more Youtube views with a few simple steps.
Video: How To Get More Youtube Views & Rake In Network Marketing Leads
If you found this video helpful be sure to share it and comment below!
P.S.  If you could use more leads for your business you may want to take a peak at the system I have been using for over 2 years now.  

Check it out here!
Comments
comments