My good bud Adam Chandler and I have really done some really cool things together online over the last several years.  It's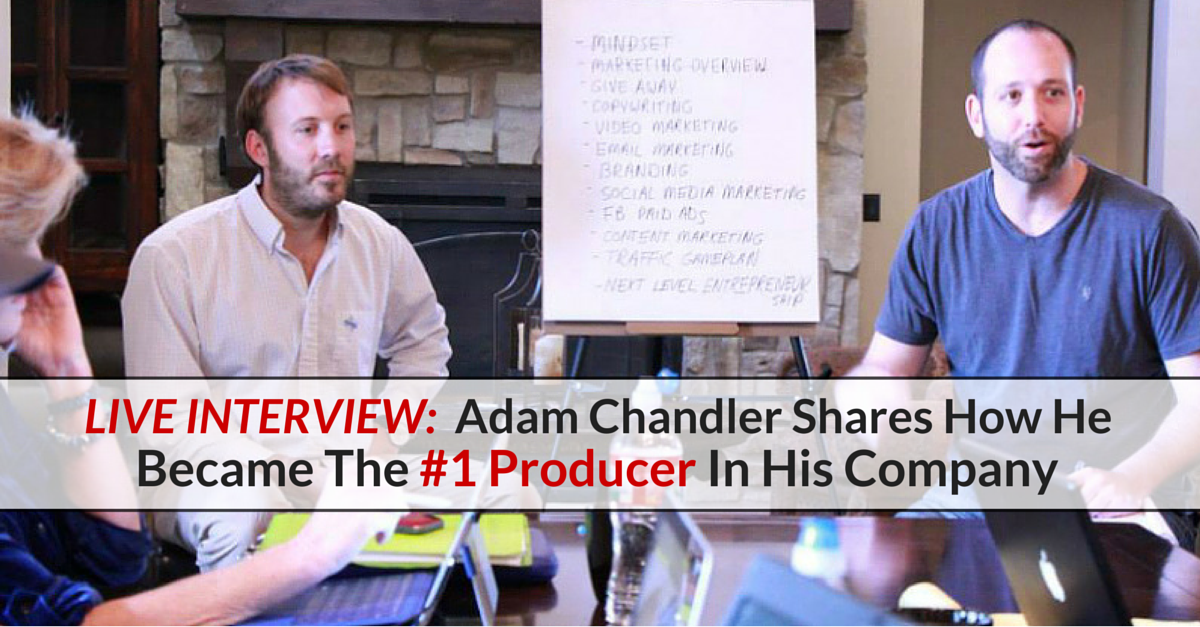 been an honor to work with him in our Biz Builder Challenges and help over 500 entrepreneurs push themselves to more successfully grow their business.  Together we've gotten incredible results online, done nearly 200k in Challenge sales, won affiliate & recruiting contests, and been invited to speak at major industry events. 
All that said, Adam has accomplished some amazing things on an individual level.  Not only has he become the #1 producer in his company, but he has successfully weathered the changing internet over the last 7 years as a full time home business entrepreneur.  That may sound a bit plain jane, but it is a serious accomplishment.  In the video below I get a really cool chance to interview Adam, and ask him to share with you, how he's done it!
Adam Chandler's Secret To Success
Aside from incredible growth as a person and entrepreneur (an important piece of the equation that seems to conveniently elude most struggling home business owners) there are 3 major things in my opinion that are at the core of his success. Sure there's more to success than just a couple of bullet points, but these are some highlights that I feel are important.
1).  He's played to his strengths.  Adam made a decision a couple years back to build his business the way he wanted to.  I remember our conversation well.  He didn't want to spend days making dials, and recruiting only to have those new and excited teammates disappear a few months later.  He is a great direct response marketer and more importantly loves it.  So he said the heck with it, I'm going to play to my strengths and build my business the way I enjoy!  Roughly one year from making that decision he had doubled his income.
2). He has focused on list building.  The biggest asset you can have online is a targeted, responsive list.  Adam has put this at the center of his business since day one, and for that reason, when he decided to join his new company at the time there was a captive and hungry audience just ready to hear what he was up to.  That's super powerful.  If you're not building a list, I can't recommend it enough.  You can start by grabbing the 4 Part "List Leverage" video series that Adam just put out where he details exactly how he's done it.  Grab It Right Here
3).  He's diversified his traffic.  This is so much more important than most marketers realize.  In the 7 years Adam has been full time in home business there have been major disruptions in the internet marketing world.  Google laid down it's infamous "Slap."  Changes in search algorithms turned many business on their head.  Companies have come, and companies have gone, and the entire time Adam has kept building like clockwork.  The reason is because he has mastered 5 sources of traffic so his eggs are never in one basket.  He breaks down all 5 in his Video Series.
Check Out My Interview With Adam Chandler
It was really fantastic to get an opportunity to be the interviewer and not the co-trainer with Adam.  Not only did it give me an opportunity to share some of the things I admire about him as a person and entrepreneur, but he dropped some really incredible tips that can help you build your business.  Check out the interview below, and be sure to leave a comment if you find it valuable.
If you found this video helpful be sure to share it and comment below!
P.S.  I FIRED MY BOSS and Caught It All On Tape…Watch Me Do It & Discover The Online System That Made It All Possible  Click Here To See The Video!
Comments
comments