Surprise, Surprise, your tax breaks for 2011 can come from an unlikely source. 
Most people don't realize this but the government is encouraging people to start hom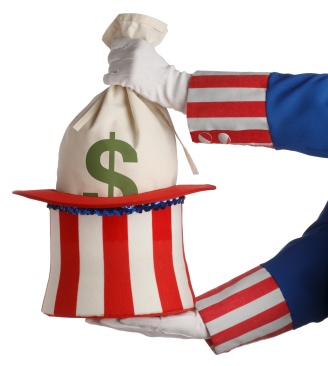 e based businesses.  So much so that they continue to tweak the tax laws in the favor of the home based entrepreneur.  Why you ask.  First, people with home based businesses are earning extra disposable income in their spare time, money the government hopes will quickly make its way back into our struggling economy.  Secondly, was a person with a home based business to lose their primary job they are less likely a burden on the government programs like unemployment.
                How significant are these tax breaks for 2011 you ask?  Very!  According to Ron Mueller author of "Home Based Tax Savings Made Easy" the average savings for a home based business owner are $3,000-$6,000 per year. 
Here are some of the deductions Ron mentions that home business owners use to achieve these tax breaks for 2011.
Mileage – .50 cents per mile can be deducted for all trips where the primary purpose is business related
Family Trips and Vacations- man expenses that you incur like travel costs and hotel can be deducted as long as half of your days away from home are considered business days.  This means that you attended a pre scheduled meeting even if it is a short one.  Even your travel days are considered business days.
Hire Your Family – You can hire your children or spouse to help you.  Even better.  If you hire your child and they are between the ages of 6-17.  There wages are 100% tax deductible, and they receive the money 100% tax free.
Write Off a Portion of Your Bills – A portion of your mortgage or rent can become a tax deduction.  Also a portion of bills like electricity, HOA dues, Cell Phone, Internet Connection etc. qualify as deductions.
Everything Else – essentially any expense incurred that would not have been incurred were it not for your business is tax deductible.
 You can see how these tax breaks for 2011 start to add up. 
 Now if you are thinking that you won't qualify for these huge savings if you just got started in your business, you are absolutely wrong.  The IRS is quite clear on what it takes to qualify.  First, you must work your business on a consistent basis.  Second, you need to try to make money.  That's right….try…have intent….not make…try to make.  Lastly, keep quality records.  Best of all, if you are in network marketing and receive an auto ship from your company, it is 100% tax deductible because you are required to purchase it.  Overall Uncle Sam will actually end up paying for your product.  Now if you haven't thought about starting a home based business before, it may be time to think again.  With these tax breaks for 2011 you are literally getting paid to start one.  I found the business that was right for me, and you can too!
To Our Massive Success,
Justice Eagan
Let Uncle Sam's Home Based Tax Breaks Buy You Silver and Gold With A Home Based Business That Can Be Run With Facebook.  Click Here.
Comments
comments