Don't like your job? You're not alone
In 2010 the New York Post reported that a poll by the Conference Board Research Group revealed that more than half of American's don't like their job.  As our economic woes continue, it is hard to imagine that statistic will show a turnaround any time soon.   I personally believe that statistic to be higher as a gray area surely exists between one liking their job and being thankful for it.  So if you've been feeling a little down at work, stressed out or just flat out discontent.  Here a few signs that your job may not be cutting it anymore
6 Signs That Your Job Isn't Cutting It
6. Your Work Load Continues to Increase
This is all too common in today's workplace.  Many companies have downsized their staffs and distributed extra work amongst the remaining crew.  If you don't like your job for this reason….I don't blame you.  Handling the challenges of a greater workload for the same pay is often a to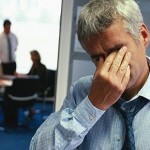 ugh pill to swallow.
5.  No More 401k Contributions
Does this sound familiar?  Remember the days when companies cared about , or at least appeared to care about your long term stability.  If you don't like your job because your company is one of many that is telling you to go it on your own when it comes to retirement, then feel free to comment on this post.
4.  Everyone is Working in Fear
This is never a fun one, and it certainly brings out the worst in people.  Every Tom, Dick and Harry throwing each other under the bus as a matter of survival.  Less work certainly gets done in this environment, which in theory will only lead to more instability.  If the company water cooler has turned into an episode of Big Brother than you probably don't like your job anymore.
3.  New Health Insurance Plan
Now often" new" means good, but rarely in this case.  Your company will try and tell you that this is a change for the better, but….well….I'll leave it at that.  If you think you don't like your job now.  Imagine when you're sick trying to search for a doctor in some obscure network, or enjoying an evening off when you open an envelope with an alarming E.O.B. statement.
2.  Frozen Wages
This is a term that is never heard by those who already have more money than they can spend (unless they like to hear themselves talk), but you may have heard it tossed around.  The last two companies I worked for froze wages, and last time I checked, nothing had changed.  If you don't like your job because your wages stay frozen, while the value of the dollar melts like the $25 round of ice creams cones you bought your family last time you were at the beach, then you might be out of luck  Yes it's true.  Five ice cream cones will likely cost more than a minimum wage employee takes home for half a day of work.   
1.   "You Should be Happy to Have a Job"
It's Official! You are completely insignificant, replaceable, and 100% unappreciated.   If your boss has ever made this statement even if it wasn't directed at you, then I know why you don't like your job.  Bad economy or not, employees should be appreciated. Especially when they are dealing with the challenges previously listed.    
 Don't like your job? Here are 4 options.
4. Suck It Up
Yes I said it.  This is the #1 answer for people who fear change, play the victim, or don't at least attempt to change their circumstances.  While things are tough out there, complaining is not a form of self-motivation so Suck it Up.
3. Find Something New
It's easy to say that there is nothing out there, but even if you don't like your job you probably aren't looking.  You can only revise that resume so many times….send it out already.
2.  Quit
I know this seems irrational (I am not recommending it.  I am simply listing options), but it may just be a catalyst for great change in your life.  If you don't like your job, and you can't kick yourself in the butt then maybe life unemployed will.
1.  Start a Home Based Business
If you don't like your job you can combine options 1,2, and 3 by starting a home based business.  Suck it up for a little while, do something new i.e. your home based business, and eventually quit the job you hate.    On top of that you can enjoy huge savings on your taxes and begin earning income that can alleviate financial stress in your life.  It may not be easy at times, and it may take a little while, but this is often the case with actions that truly bring improvement to your life.
Any Which Way..If You Don't Like Your Job Then Take Action and Make a Change!
To Your Success,
Justice Eagan
If you like this post please share it on Facebook and Retweet it  
<<<<SEE THE 1 SIMPLE SYTEM THAT TRANSFORMED MY HOME BASED BUSINESS>>>>
Comments
comments