Maybe you haven't noticed but coin collecting has peaked the interest of many as the demand for gold and silver continues to increase.   More than ever people have been purchasing silver and gold coins in an effort to transfer paper money into a lasting tangible asset as a hedge against the devaluation of the dollar.  I lack the economic expertise to confidently say that this blog post should be your last stop before purchasing.  I can however, guide you through the basics of coin shopping.
Let us start by defining the major term you will encounter as you begin your search in the coin market.  That term is Numismatics.  By definition Numismatics is "the study and collection of money."  Numismatics is a 100 billion dollar industry worldwide, of which 10 billion dollars in annual sales occur right here in the United States.  If you thought the collection of money was niche hobby in our country then you can place it just above a slightly smaller niche you may have heard of…the entire U.S. pet industry.
A major distinction must be made.  While the definition of Numismatics refers to the collection and study of money, all coins are not considered numismatic coins.  All coins fall into one of two categories, either Numismatic Coins or Bullion Coins.  Numismatic coins are coins that are sought after and valued based on demand, rarity, condition and historical significance in addition to their precious metal content.  Bullion coins are generally valued strictly on their precious metal content and often sell for a few dollars above the spot price of the metal they contain. 
Numismatic coins usually grace the white gloved fingertips of a professional third party grader.   These graders determine the condition of the coin, and sonically seal it (or slab the coin).  This process validates and protects the condition of the coin.  These graders use a system referred to as the Sheldon scale.  Though there a variety of Sheldon Scale ratings from 1-70 a Mint State coin is one that falls between 60-70 on the scale.    A mint state 70 (or MS70) coin is considered to be in nearly perfect, "museum quality" condition.  A coins' numismatic value can increase its value considerably, especially when you are dealing with MS70's. 
For example:
A 1997 Silver American Eagle Bullion coin will likely sell for the same price as a current Silver American Eagle.  Silver's spot price per once, currently $39 plus about $4, totaling $43.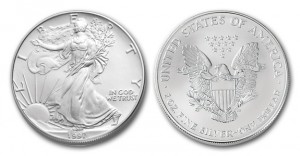 Where as a 1997 MS70 Silver American Eagle retails for around $500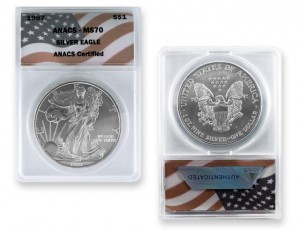 It is no mystery why numismatic coins continue to grow in popularity.  The incredible demand for these collectibles opens the door to those looking to make a quick buck through illegitimate grading.  For this reason, when shopping numismatic coins, consider only those graded and slabbed by one of the top third party grading companies.   Only these four companies are reputable in the eyes of coin collectors. 
ANACS -American Numismatic Association Certification Services
NGC-Numismatic Guaranty Corporation
PCGS-Professional Coin Grading Service
IGC-Independent Coin Grading
As you continue to do your research, you will encounter those who feel strongly that bullion is the best investment while others will stand by numismatic coins.  I personally prefer numismatics, because their value is much less volatile.  When dealing with bullion you are solely at the mercy of market conditions.  In the end it will be up to you.  Personally I believe that either is better than owning no gold and silver at all.  If you would like shop around I will provide some links at the bottom of the page so that you can compare pricing.
To Our Success,
Justice Eagan
FIND OUT HOW TO MAKE MONEY WITH GOLD AND SILVE R
USING YOUR FACEBOOK ACCOUNT
CLICK HERE
 SHOP AND COMPARE
Comments
comments