Network marketing training certainly isn't hard to find if you're a home business owner.  If you're with a good team there's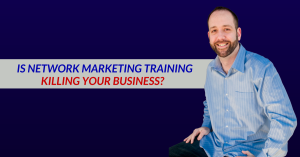 surely team training to be found.  If you're with a good company they have plenty of resources to help you sharpen the old axe.  If you've ever had a question about how to better grow your business and turned to Google you now know that around every internet corner lies another video, blog post, or course on what to do and how to do it.  The good news…there's no shortage of great information that can help you develop valuable skills and get better results.  The bad news….the very same network marketing training designed to help you may just be killing your business if you're not careful.
How Much Network Marketing Training Are You Doing
I've got to ask, how much time do you spend training yourself? This is time spent on calls, webinars, reading books, watching videos etc.. Even more importantly how much time do you spend participating in money making activities?  By money making activities I'm talking about prospecting, getting exposures, or participating in marketing activities that can actually produce leads and sales.  If you're like most network marketers you're knee deep in mlm training and likely getting ready to get ready.  This is a major danger zone and can stand between you and the results you desire.  If you've experienced this or are not sure where you stand but don't have the results you want, today's video can definitely help.
The Lie Behind Network Marketing Training
If there's an untruth that exists it's not coming from the training, the trainers, upline leaders, or your company.  It's coming from you.  See we are masters at telling ourselves stories that just aren't true.  This is all done in effort to pacify our minds, justify our lack of action, and most importantly these stories are a smoke screen to disguise fear.  Fear of action, fear of failure, fear of being judged and so many more can conveniently disguise themselves in the form of what we tell ourselves is much needed preparation.  In today's video I not only break down how much time you should spend working on your skills, but I also give you a few tips to make sure that your success isn't being held back by constant network marketing training.
Video: Is Network Marketing Training Killing Your Business?
If you found this video helpful be sure to share it and comment below!
P.S.  If you could use more leads for your business you may want to take a peak at the system I have been using for over 2 years now.  

Check it out here!
Comments
comments