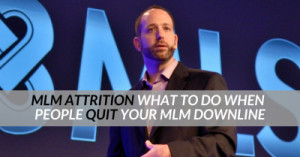 Are you dealing with MLM attrition? If you've brought a few people into MLM than by now you've also had people quit your downline.  How do I know?  Well because its inevitable.  Attrition in your MLM downline is a fact of life, and if you plan on building a large team you should accept than sooner than later.  I've heard several top earners say that when they bring someone new in….through one eye they see the next 7 figure earner, and through the other they see someone who will quit in a week.  The funny part is you don't know who's who until they show you.  In today's video I share some tips on dealing with attrition, but first you should give some thought to why they quit in the first place.
Why MLM Attrition Happens
The majority of people don't finish things they start, don't change things they don't like, and don't achieve the success they say they desire.  That's not an MLM thing….its a people thing.  If you asked 1000 people if they wanted more time and money they'd all say yes.  Yet it can't be that important to them, because most of them do nothing to move closer to what they say the want.  As for actual MLM reasons people quit.  Mainly….giving into their fear or need for acceptance outweighs the things they say they want, or they didn't come in with the right expectations and understanding of their company or the industry. Just know MLM attrition is not your fault!
Video: What To Do About MLM Attrition
If you found this video helpful be sure to share it and comment below!
P.S.  I FIRED MY BOSS and Caught It All On Tape…Watch Me Do It & Discover The Online System That Made It All Possible  Click Here To See The Video!
Comments
comments