Getting started with social media for network marketing can be unchartered territory for most.  Not only are there lots of social media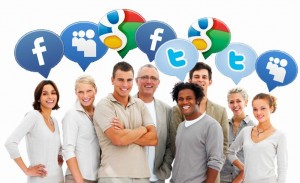 site to choose from, but there is also usually a considerable difference between truly effective social media marketing and the marketing efforts we are experiencing from others every day on these sites.
How To Get Started With Social Media For Network Marketing
It's quite simple really. If you don't already have an account….open one.  Connect with people you know along with mutual friends and followers that you have things in common with.  Treat social media as if you are meeting these people at a party, be interested and build relationships.  Whatever you do, resist the urge to quickly pitch your business to new contacts.  Instead, be a person of value on social media.  Post things that are interesting, inspirational, that represent the fun you, the entrepreneurial you.  Create curiosity about what you do.  Peaking people's interest will open the door to new relationships and eventually to exposures for your business.  If you are new to using social media for network marketing this video will help you get started.
Video: Using Social Media For Network Marketing
If you found this video helpful be sure to share it and comment below!
P.S.  If you could use more leads for your business you may want to take a peak at the system I have been using for over 2 years now.  

Check it out here!
Comments
comments