So you're seeking MLM success…how long will it take?
So what is the MLM success timeline?  Isn't that the question of the day?  We are so over exposed to magic solutions and guru influence that one can't help but feel incompetent if they're not banking 5 figures per month.  The reality is….that's not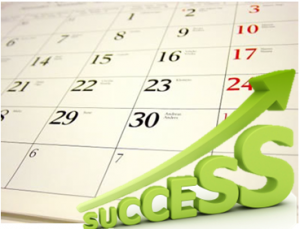 reality, at least not immediately.  All the industry leaders can't help themselves but make it sound easy.  It's not.  They know that, but often just forget.  You see, they are leaders for a reason.  They have worked as hard as leaders in any industry.  MLM Leaders along with top CEO's, big business owners, music moguls, superstar athletes, etc. all have something in common.  Most started at point A and all worked extremely hard to get to point B.  So how long did it take to get there?  The answer is…It varies.  Now I know that's not what you wanted to hear, but it is definitely what you need to hear.
The reality is, everyone develops at a different pace in all aspects of life.  Have you ever seen a natural born athlete peak before professional superstardom, or a high school dropout become a business icon?  Of course you have.  Much like others before you, your timeline will vary.  If you came here looking for a formula with an end date attached to it, then you already have one foot in your own MLM grave.  I can however offer a lifeline that will bring you back from the MLM success obituaries.  OK here it is.
Your MLM Success is simple!
Point A is your starting point.  Point B is MLM Success. The timeline is your work calendar dedicated to consistent action and personal growth.  That's it.  Don't confuse guru hype with guaranteed results.  Take the hype for what it is….it's excitement about their results, and insight as to how they achieved them.  Don't forget the bitter sweet ingredients to success in MLM…. consistent action followed by personal growth, you can't have one without the other and they are always in that order. 
MLM Success is elusive…even if your succeeding
Always Remember 2 Things
You can't get from point A to point B if you quit
You can't get from point A to point B if you succeed.  Why….because if you are succeeding then point B is always moving.
You can however maintain consistent action and growth and reach the level of success in MLM that you are currently striving for
Keep this in mind as you grow your team.  Be honest with your prospects and teammates about what MLM is at its core.  MLM is not a magic money system.  It's not a better version of the same old story.  It's a clean slate that provides endless opportunity for those that are finally ready to take action, creating positive change in their life and inspiring change in the lives of others.
To Your Success,
Justice Eagan
WANT TO SPEED UP YOUR MLM SUCCESS TIMELINE??? CLICK HERE!
Comments
comments