Money mindset is a term I hadn't ever heard at the age of 32 when I half heartedly got into home business. Think about that 32 years on this earth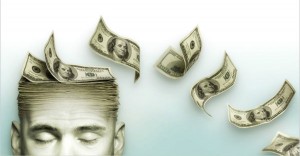 and I wasn't the slightest bit aware that such a thing even existed. To be clear money mindset and financial education are two entirely different things. We're not talking about understanding how money works. We're talking about a persons relationship to money. Yes it's true…you have a relationship with the "idea" of money formed along the way and likely that relationship had pretty strong roots at a relatively young age. In today's video I talk about why extremely common beliefs about money can be standing in between you and the wealth you say you desire.
How Is Your Money Mindset Formed?
There's endless instances in which your relationship with money is developed. If you have a relationship with money that isn't serving you maybe you watched the need for money cause your parents stress. Maybe those growing up around you were more affluent and it led you to feel "less than." Maybe the message you grew up around wasn't positive towards money or rich people. After all many children grow up being taught that rich people are greedy, the want for material things is unethical, money changes people etc..
What Is Your Money Mindset Like?
Most people who have a poor relationship with money have no idea, and truth be told the hyper majority have a poor relationship with it. Here's a tough thought to swallow. Most of the people who read this blog will have a debilitating money mindset. That's right debilitating meaning it is literally inhibiting their ability to become wealthy. Meanwhile almost every person who reads this blog will believe they have a healthy relationship with money. There in lies a major problem. If someone doesn't recognize that the problem exists it is impossible for them to fix it. Today's video is going to put you to a tough test, and I've left some resources for you to review as well. If the video hits home leave a comment below, and let me know if you'd like me to do a video on how to develop a positive money mindset.
Watch The Video Below
Check Out The Article Mentioned Here
If you found this video helpful be sure to share it and comment below!
P.S.  If you could use more leads for your business you may want to take a peak at the system I have been using for over 2 years now.  

Check it out here!
Comments
comments