MLM recruiting is arguably the most important aspect of any network marketers business.  For many it's an area of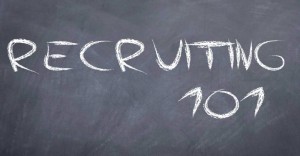 struggle.  Fear of rejection keeps many new reps from even sharing their business.  Other's share but struggle with follow up and objection handling.  This leaves so many people desperately searching for answers.  Today's video shares and important, and often missing, piece of the puzzle.
Is MLM Recruiting About Saying The Right Things?
Sure saying the right things plays a major role.  Don't get me wrong skills are important, but I believe that without one key component, skills won't get you very far at all.  With that key component… you can make up for a lack of skills and still get results.  Ok, today's training comes to you in the form of an audio.  I hosted a guest mindset call and shared what I believe to be the most critical aspect of successfully building a home business.  Without it, nothing else really matters.  What is it?  Listen to today's audio and you'll what I believe most often get's in the way of successful MLM recruiting.
Video: MLM Recruiting Struggles?  Here's A Check Up From The Neck Up!
If you found this video helpful be sure to share it and comment below!
P.S.  If you could use more leads for your business you may want to take a peak at the system I have been using for over 2 years now.  

Check it out here!
Comments
comments