Managing emotions wouldn't be a topic near and dear to my heart several years ago.  Turn back the clock and you'd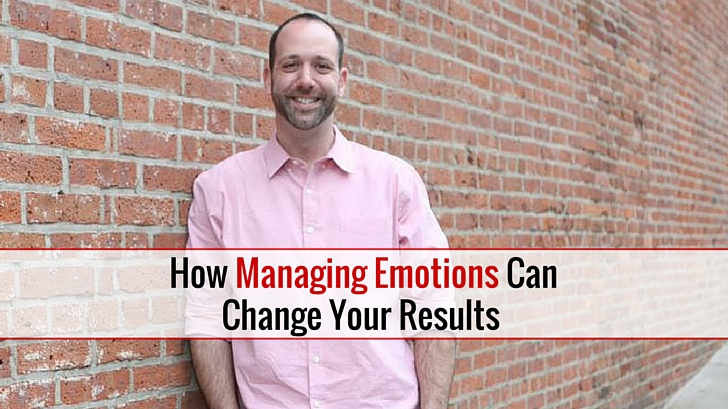 meet a stressed out, angry, and, sad to say, mean person.  In the restaurants I managed, employees walked on eggshells, felt condescended, and basically had to deal with working for a really crappy boss.  What changed?  I decided I wanted more out of life, and realized that to achieve bigger things I had to begin managing my emotions.  In today's video I share why this is so important.
Could You Use A Dose Of Emotional Management
Unfortunately most people who poorly manage their emotions, or energy for that matter, remain in denial.  It takes a good hard look in the mirror and a little humility to come to grips with the fact that we may too often let our emotions get the better of us.  In essence, giving up self control that is ours to keep.
The fact is, each an every one of us can be better.  The real question are we willing to be honest with ourselves about how much better we can be, and furthermore make the connection between being better and achieving the things we want in life and business, and ultimately strive to change.
It's easy not to.  After all we live in a world where the misguided logic goes something like this.
John did X so I feel like Y.  Shame on John.
X happened today which upset me, and in turn kept me from focusing on my work.  If only X wouldn't happen I could do what I'm supposed to do.
Do statements like these sound familiar?  If so, here's the biggest problem.  Statements like these come from a position of weakness.  When we participate in this misguided logic we literally hand the power of our lives over to external forces over which we have no control.  If you truly want to take control of our future, we must first start managing emotions.
The First Step In Managing Emotions
Negative emotions are a product of negative thought's.  In the video below I discuss a recent experience and explain that usually emotional outbursts are not a product of what's happening in that moment.
As Russ Whitney explains in his book "Inner Voice" negative emotions like, anger, resentment, shame, and guilt are products of focusing on the past.  Emotions like, anxiety, fear, and doubt are products of focusing too much on the future.
To successfully manage your emotions the first step is to focus on the present.  The here and now.  Make a conscious effort to be grateful for the present, and do your best to let go of negative emotions associated with things that are out of your control.
Why?  Well because they are literally out of your control. The emotions change nothing about the circumstances and have a negative effect on you, and even those around you.  It is a lose, lose.  Watch today's video where I share a short story and speak further on why your success depends on you managing emotions.
If you found this video helpful be sure to share it and comment below!
P.S.  I FIRED MY BOSS and Caught It All On Tape…Watch Me Do It & Discover The Online System That Made It All Possible  Click Here To See The Video!
Comments
comments